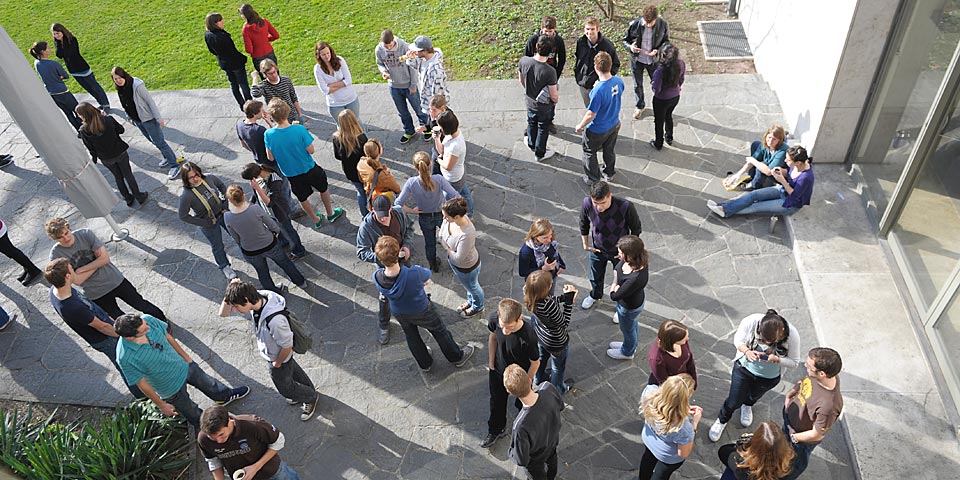 Sociology (Bachelor's Degree Program)
Gaining nuanced insight into the workings of society
Sociology is at the heart of the social sciences, and addresses all aspects of human coexistence. For instance, it asks what norms and values guide our behavior, analyzes the phenomenon of social change, investigates how social integration or gender relations operate, and grapples with issues such as identity, migration, digitalization and globalization. This vast spectrum of subject matter has led to the emergence of diverse sub-disciplines within sociology, such as political sociology, cultural sociology, developmental sociology, media sociology, and so on. In Basel, we attach great importance to providing a well-rounded education in sociological theories and methods. Besides engaging with the discussion on the manifold forms of social relations, practices, processes and structures, the bachelor's program focuses on the questions of how society is possible at all, how it functions, and what problems it generates. Core thematic areas include social inequality, conflict and cooperation, globality and identity, and knowledge and culture.
Focal areas of teaching and research
The Bachelor's Degree Program in Sociology encompasses sociological theory, and the critical and reflective analysis of all forms of society. Students will benefit from a nuanced education in theory (cultural theory, social philosophy, anthropology and political theory), which is closely intertwined with more practically oriented training in qualitative and quantitative empirical social research methods. The main focus of the program consists of two thematically organized modules:
The Politics, Development and Social Inequality module bridges the fields of political and developmental sociology. This combination enables in-depth analysis of diverse phenomena in the area of social inequality at the regional, national and international level. The main themes covered in this study option include social inequality, work, conflict and cooperation, and globality and identity.
The module Economy, Knowledge and Culture focuses on the sociocultural creation and shaping of economic practices, structures and knowledge forms. It offers an introduction to foundational theories, questions and topics relating to economy, knowledge and culture, combining cultural and socioeconomic perspectives.
The individual disciplines are brought together by integrated courses addressing overarching themes. To enable students to develop a research-based learning approach early on, particular emphasis is placed on interactive forms of study. This is achieved by means of small tutor-led groups and project-oriented tasks.
Program structure
A bachelor's is the first degree a person can earn. It requires a total of 180 credit points (CP). The Bachelor's Degree Program in Sociology is one of two subjects studied, each worth 75 CP. Free electives (30 CP) are also included. One ECTS credit point equates to approximately 30 hours of work.
Bachelor of Arts (180 CP)
Sociology
75 CP
Degree subject of the Faculty of Humanities and Social Sciences
or extra-faculty
75 CP
Free electives
30 CP
Two degree subjects
Combination of subjects
Students can choose a subject offered by the Faculty of Humanities and Social Sciences or a subject from another faculty as their second bachelor's degree subject. 
Students are free to choose any free elective. These courses allow students to deepen their knowledge of their degree subjects, gain an insight into other degree subjects offered by the University of Basel, or acquire language skills.
Bachelor's examination & degree
Students who have obtained 60 CP per subject area and have passed the seminar papers required for the degree are permitted to register for the bachelor's examination. To prove that they meet the requirements, they must provide their module allocation or automatic assessment email.
| | SS 2019 | FS 2019 | SS 2020 | FS 2020 |
| --- | --- | --- | --- | --- |
| Registration forms (degree subject / program) available from | 01.02.19 | 02.09.19 | 03.02.20 | 01.09.20 |
| Registration period | 12.03. - 28.03.19 | 01.10. - 17.10.19 | 10.03. - 26.03.20 | 29.09. - 15.10.20 |
| Examination | 18.05. & 25.05.19 | 07.12. & 14.12.19 | 09.05. & 16.05.20 | 05.12. & 12.12.20 |
| Notification of grades | 05.07.19 | 24.01.20 | 29.06.20 | 22.01.21 |
| Inspection of examination papers and degree application | 06.08. - 22.08.19 | 28.01. - 13.02.20 | 04.08. - 20.08.20 | Date follows |
| Graduation ceremony | 19.10.19 | 25.04.20 | 10.10.20 | Date follows |
Subject to subsequent changes.
Continuing on to a master's degree
Master of Arts in Sociology