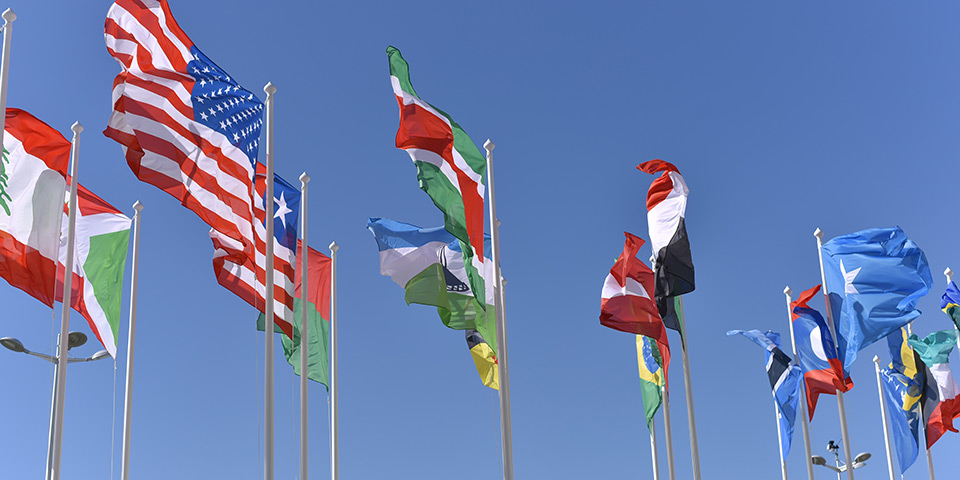 Political Science (Bachelor's Degree Program)
Contemporary, multifaceted, and exciting
Political science is a rich and particularly topical area of study which is closely linked to our everyday lives. Political decisions shape how we live together as a society, defining our freedom to act, our duties and our rights. Accordingly, to study political science is to investigate these concepts in depth, and ask questions such as: How do generally binding rules come into being, and how are they enforced? How do European institutions operate, and how are international relations shaped? Why does conflict occur, and how is it resolved?
This makes for a multifaceted and exciting study program. Students at bachelor level will first develop a strong foundation in political science theories and methods, which are then built upon as they learn additional skills that equip them to analyze political structures and processes. The constantly evolving bachelor's program offers an opportunity to develop specialist knowledge of political systems in one or more world regions.
Focal areas of teaching and research
Political science at the University of Basel places a strong emphasis on international relations, as well as comparative studies between and within political systems. Another key feature of the program is that it combines content-related and methodological foundations with specialist knowledge on the student's chosen world region, thereby allowing students to pursue their specific interests in one or more regions. Other key areas of academic focus are democracy, political representation, peace and conflict studies, and the European Union.
The program's specialized approach enables diverse teaching and research collaborations with other humanities and social sciences departments. The focus on world regions complements and expands upon courses offered by other institutes and faculties. The geographical and cultural aspects of courses offered by the Center for African Studies, the Institute for European Global Studies and the departments of Middle Eastern Studies, Eastern European Studies and Literary Studies make them an ideal complement to the political science program.
The bachelor's program offers a solid theoretical, methodological and thematic academic foundation. It comprises three classical branches of political science: comparative politics, international relations, and political theory. Students will become familiar with different government systems and political actors, and will grapple with the factors that shape decision-making processes, as well as conflict and cooperation between political actors in different world regions. The Regional Focus and Consolidation modules in Political Science Consolidation / Further Political Science allow students to tailor the course to suit their chosen specialty. Concurrently, students will also develop skills in scientific working techniques, research design, and application of quantitative and qualitative data collection and analysis methods. Furthermore, the interdisciplinary nature of the social sciences is taken into account by means of the Broader Social Sciences module.
Program structure
A bachelor's is the first degree a person can earn. It requires a total of 180 credit points (CP). The Bachelor's Degree Program in Political Science is one of two subjects studied, each worth 75 CP. Free electives (30 CP) are also included. One ECTS credit point equates to approximately 30 hours of work.
Bachelor of Arts (180 CP)
Political Science
75 CP
Degree subject of the Faculty of Humanities and Social Sciences
or extra-faculty
75 CP
Free electives
30 CP
Two degree subjects
Combination of subjects
The understanding of diverse theories and methods provided by political science is ideally suited to interdisciplinary study, and can be fruitfully combined with many other subject areas. Students can choose a subject offered by the Faculty of Humanities and Social Sciences or a subject from another faculty as their second bachelor's degree subject. 
Students are free to choose any free elective. These courses allow students to deepen their knowledge of their degree subjects, gain an insight into other degree subjects offered by the University of Basel, or acquire language skills.
Bachelor's examination & degree
Students who have obtained 60 CP per subject area and have passed the seminar papers required for the degree are permitted to register for the bachelor's examination. To prove that they meet the requirements, they must provide their module allocation or automatic assessment email.
| | SS 2019 | FS 2019 | SS 2020 | FS 2020 |
| --- | --- | --- | --- | --- |
| Registration forms (degree subject / program) available from | 01.02.19 | 02.09.19 | 03.02.20 | 01.09.20 |
| Registration period | 12.03. - 28.03.19 | 01.10. - 17.10.19 | 10.03. - 26.03.20 | 29.09. - 15.10.20 |
| Examination | 18.05. & 25.05.19 | 07.12. & 14.12.19 | 09.05. & 16.05.20 | 05.12. & 12.12.20 |
| Notification of grades | 05.07.19 | 24.01.20 | 29.06.20 | 22.01.21 |
| Inspection of examination papers and degree application | 06.08. - 22.08.19 | 28.01. - 13.02.20 | 04.08. - 20.08.20 | Date follows |
| Graduation ceremony | 19.10.19 | 25.04.20 | 10.10.20 | Date follows |
Subject to subsequent changes.
Continuing on to a master's degree
A bachelor's degree qualifies graduates for entry to subsequent master's level programs. Dependent on the subject options chosen at the bachelor level, it may permit entry to a master's in a different subject area.
Career opportunities
Besides employment in NGOs, international organizations, research groups and private sector firms, this bachelor's degree can also prepare graduates for positions in politics, administration, business and media requiring independent, methodical and analytical thinking and work.